Please excuse the mess, I just changed layouts and will be redoing some of the content.
WELCOME
Welcome to Vindictive. My name is Jessica. I'm 18 and a Lesbian. I live in Florida and work at 24/7 Intouch as a Call Center Agent (if your looking for a job and have one in your located i HIGHLY suggest them). I made Vindictive because I enjoy making graphics and resources everyone can use. So please use them as you wish but
DO NOT
jack anything or claim as your own. I've made everything on this site unless stated otherwise. If I forget to credit anything and you see it please DO NOT come after me just simply contact me and ill be more than happy to fix it.
IF YOU USE ANYTHING PLEASE COMMENT IN THE CBOX
ENJOY!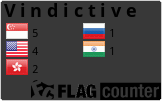 ALL DISCLAIMERS AND STATS WILL BE LOCATED AT THE "DOMAIN" LINK.
(c) Vindictive all rights reserved. Hosted by: Glitter Sweet